5 Interesting Movies Involving Airplanes
5 Interesting Movies Involving Airplanes
There are lots of films depicting airplanes on aerial combat or those films we may categorize as war movies. However so there remain a few films uncategorized into the war genre but deserve equal share of public attention in terms of box office. Below were five of those for your consirderation.
Mercy Mission: The Rescue of Flight 771 (1993) – Two pilots must ferry Two Cessna 188 AGwagon to Sydney from the US with stop overs at Honolulu, Pago Pago and Norfolk Island. Frank crashes after take-off at Pago Pago but wasn't seriously injured leaving Jay (Scott Bakula) to continue the route to Norfolk. After the expected time of seeing the island failed, Jay must devise a way of finding his position after realizing his navigational instruments malfunctioned. Making a distress call on the radio for rescue, he was heard by the command pilot of a passing commercial aircraft overhead, an Air New Zealand flight from Nadi to Auckland who was more than willing to guide him to find a place to land before his fuel runs out.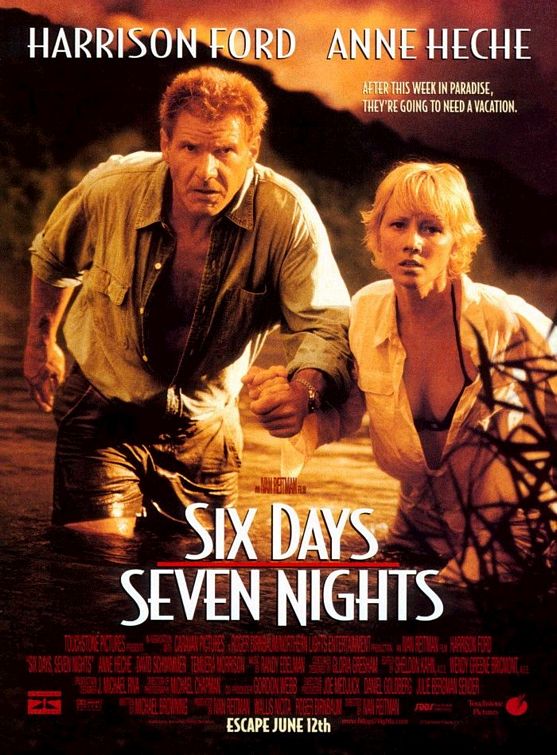 Image Courtesy of Pinar Tarhan
Six Days Seven Nights (1998) - An interesting holiday story that turned into a coincidental meeting of love partners, it featured Harrison Ford on the lead role as a charter plane pilot and Anne Heche as the passenger. Filmed in Kauai and directed by Ivan Reitman, it tells the story of Robin Monroe (Heche) a magazine journalist set to join her boyfriend Frank (David Schwimmer) to spend holiday in South Pacific. The holiday was cut short when Robin's boss called her to cover a fashion event in Tahiti requiring her to leave Frank for awhile while she leave aboard a DHC-2 Beaver, a chartered plane flown by Quinn (Ford). A freak thunderstorm caught the plane's journey forcing the pilot to ditch the plane near an island which unfortunately broke the plane's float beyond repair making a twist to the story that allowed the main characters to find love in the most unexpected place.
Flight of the Phoenix (2004) – Featuring well known casts as Dennis Quaid and Giovanni Ribisi among others, this film was a remake of a 1965 film based on a 1964 novel The Flight of the Phoenix by Elleston Trevor. The film tells about the disaster on a C-119 Flying Boxcar sent to haul out workers from an oil rig somewhere in a deserted part of Mongolia. A sandstorm conked out the plane's engine while on the flight back to China leaving the survivors to find their way out of the hot desert after the plane crash landed and got wrecked beyond repair. Their only hope is the leadership of the pilot, Captain Frank Towns (Quaid) and Elliot (Ribisi) who offered his help as an aeronautical engineer (as he claimed). The plan was to salvage usable parts on the plane to assemble a workable flying aircraft to send them home. Their trust on Elliot to do the design modification falter out when they discovered his actual experience as aeronautical engineer was in building R/C aircraft models.
The Aviator (2004) – Leonardo Di Caprio immortalizes Howard Hughes in this biographical film based on Hughes' biography by Charles Higram. The intricacy of Hughes' life as an aviation pioneer, film maker and business tycoon with varied interests money could afford was clearly portrayed including the man's obsessive-compulsive disorder and how he managed to deal with it in the midst of his fame and fortune. Directed by Martin Scorsese, this film got 11 nominations for Academy Awards and won five of it. Famous female celebrities like Cate Blanchett, Kate Bickensale and Gwen Stefani played the parts of Katharine Hepburn, Ava Gardner and Jean Harlow respectively; that adding a romantic twist to the love life of the main character which made this film truly worth watching.
Snakes on a Plane (2006) – A horror/thriller film which basically explores the possibility of an undeclared cargo of snakes inside a commercial airliner, it portrays the bad side of it when it has been left untended. A witness to a murder in Hawaii, Sean Jones (Nathan Phillips) was escorted by two FBI agents, Neville Flynn (Samuel L. Jackson) and John Sanders (Mark Houghton) to testify in a trial in Los Angeles. Unknown to them and the rest of the passengers of the Boeing 747-400, a time delay lock fitted on a crate full of snakes loaded at the cargo hold was set to activate releasing the snakes when the airplane is airborne assuring that it doesn't reach its destination (an attack pheromone was sprayed at the passengers' garland assuring that snakes will attack without provocation). The story from which this film was based was credited to David Dalessandro from University of Pittsburgh who wrote about the concept of the story in 1992.
References:
http://en.wikipedia.org/wiki/Six_Days_Seven_Nights
http://www.imdb.com/title/tt0107556/plotsummary
http://en.wikipedia.org/wiki/Flight_of_the_Phoenix_(2004_film)
http://en.wikipedia.org/wiki/The_Aviator
http://en.wikipedia.org/wiki/Snakes_on_a_Plane
8 comments